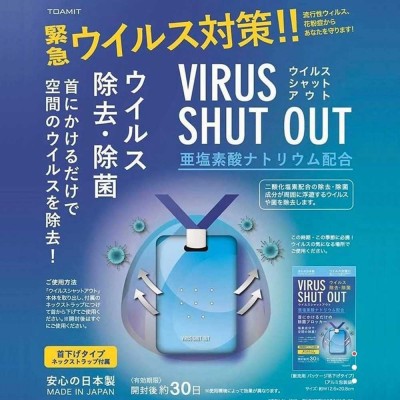 VIRUS SHUT OUT antibacterial disinfection and virus removal bag
Protect you from epidemic virus and hay fever
Effectively block virus, micro-suspended particles, pollen, dust and other virus germs. In addition to wearing a mask and washing your hands frequently, pay attention to personal hygiene. You can try only Japan 's Virus Shut Out air sterilization protective film.
h3>
Suitable for everyone, especially suitable for patients with low immunity/children/pregnant women/elderly people/long-term hospitals with a lot of bacteria in the same clinic can remove planktonic odors, like smoke and sweat odor>
Usage: Hanging on the neck/placed on the chest pocket, one pack is effective for 1 month
Imported from Japan. Unopened 12 months shelf life. Please use immediately after opening to ensure high quality.
Using sodium chlorite, the main component of environmental disinfection water, has strong ability to inhibit viruses and bacteria in water
Experimentally proven to effectively block particles and bacteria in the air, and various epidemic viruses
Sodium chlorite has strong oxidizing power and achieves antibacterial or antibacterial effect in a short time
Bacteriostatic effect is not affected by water pH
It can help to eliminate planktonic bacteria, influenza and other viruses, and reduce the chance of being infected by others or others
Suitable for all people, especially suitable for sick patients/immunities/children/pregnant women/elderly people/long-term hospitals with the most bacteria
It can remove planktonic odors, like smoke and sweat odor
Usage: hanging neck/placed on chest pocket
One pack is valid for 1 month
Japanese original entrance
Unopened 12 months shelf life
Please use it immediately after opening to ensure high quality effect
Main ingredients:Chlorine dioxide (sodium chlorite, natural zeolite)
Body size (approx.):W55xH80xD5mm
Attachment content:body x1, neckband x1
Expiry date:It will be invalid after about 30 days after opening the cover, no refill is required.
Made in Japan
Toamit - Virus Shut Out antibacterial disinfection and virus removal bag